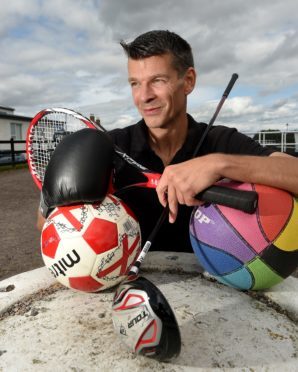 A firefighter turned personal trainer is poised to launch his next rescue mission – making fitness affordable to all to help combat mental health issues.
Malcolm MacSween has secured new premises in Inverness to deliver activities to help aid those experiencing mental health challenges.
The 44-year-old left the fire service April last year to pursue the opportunity, with ActivNess set to officially open its centre on Canal Road next week.
A lending library is being trialled by the charity, where equipment can be borrowed, allowing people to try new activities without the burden of purchasing the relevant equipment.
A small charity shop at the site will also be available where used sporting equipment and apparel can be bought.
Mr MacSween said: "When I was 13 my mother died and around that time, from my teens to my mid-20s, I suffered from bouts of depression.
"I found that at the times I was training I felt balanced and good but times I wasn't, I didn't feel so great, so I think that's what drew me towards studying towards a sport and exercise degree at Edinburgh Napier.
He added: "I decided we would take part in activities and wanted to vary it so I was actually buying equipment as there was nowhere really to get it, so that's where the idea of the library came from.
"I wanted to create a location where everyone can have access to equipment and we are using it on a trial basis."
Mr MacSween added: "We want to act as the gateway service to breaking down barriers that stop people from becoming active. These often involve financial constraints so by providing the library and charity shop we how to ease that burden.
"We also want to provide information on what is available and populate our list with groups and businesses that provide activities in the area, with these groups helping us by providing some free taster sessions, so it works both ways."
The charity is set to work with local mental health organisations in referring clients to each other, ensuring those who need support and help are put in touch with the relevant people.
Mr MacSween said: "I was totally lost when I was younger and probably could have done with support at that point, but that was 30 years ago and there weren't the support networks there are now.
"Now, I would like to offer that support, or at least offer the direction that you can get support, be that signpost to an organisation that can help."
The official opening of the centre will take place next week, where local councillors and Drew Hendry MP are expected to be joined by representatives from local mental health organisations.
Link to Press and Journal article here