This page contains images and tributes to Lee
---
Thank you for sharing. Lee would be very proud of you. Many of us will experience mental health issues at some point in our lives. Sadly, appointments with CPNs, psychiatrists and counsellors can take weeks.
Even then treatment is for a limited period due to funding constraints and the growing numbers waiting for help. When someone requires hospital admission due to the severity of their illness often no bed is available. Alternatively, a free bed can be miles from home meaning the person is isolated from their family and/or friends at a time when they need support more than ever. More money should be available to provide vital local services and support for as long as it takes for the person to recover. Folks should not be left to struggle on their own. Giving someone anti-depressants when they clearly need specialist treatment is not the answer. No one knows what circumstances might cause them to suffer from mental health issues. All lives matter.
Shirley Kirk
Fundraiser to mark the life of much-loved Lee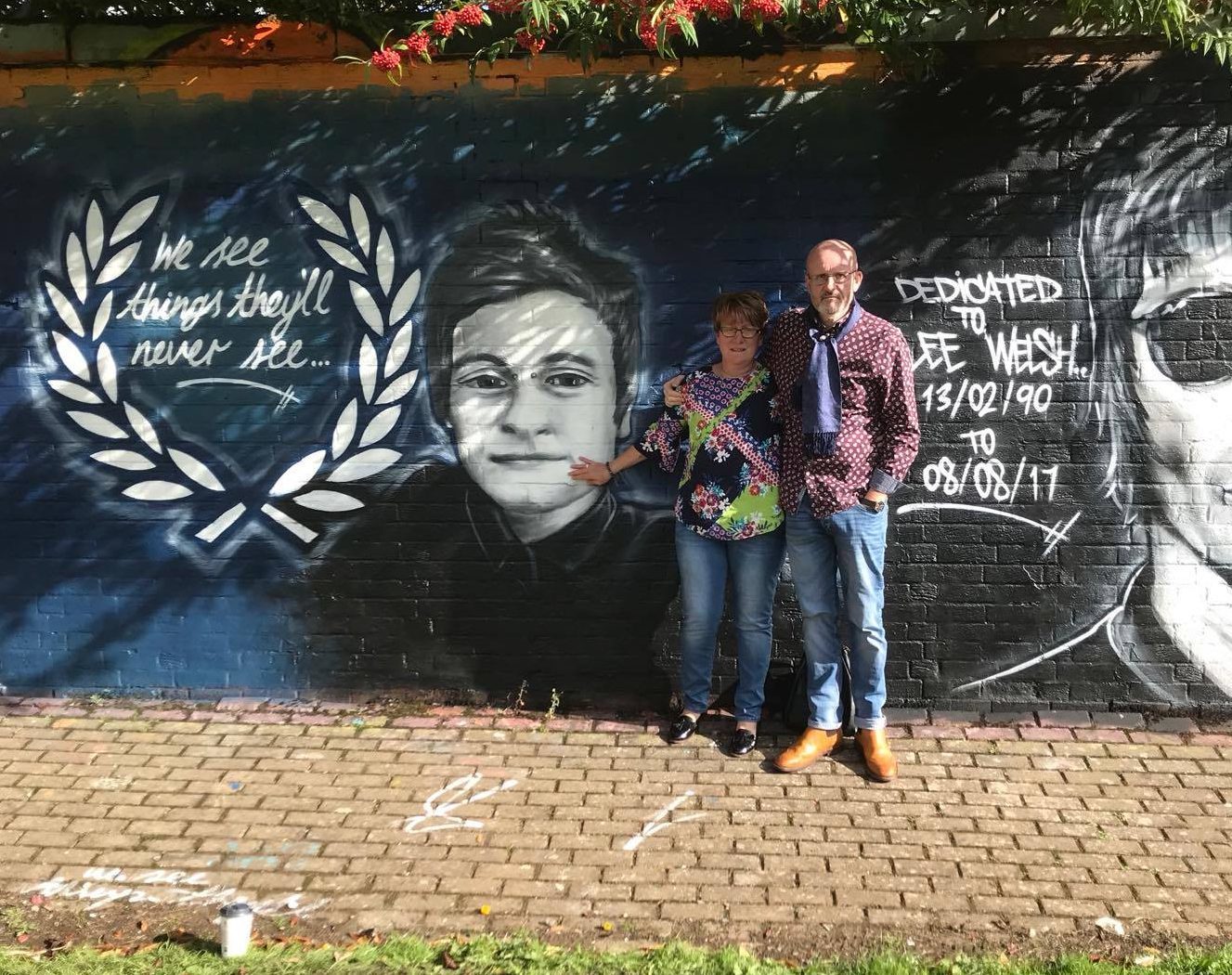 Tickets still remain for a fundraising evening launched to mark the life of a well-loved Dundee man.
Lee Welsh, 27, died in August.
His family have since campaigned relentlessly for enhanced mental health care provision and have worked tirelessly to commemorate their son.
On Saturday evening,  a fundraising night in tribute to Lee will be held in Dundee's Skyaxe Combat and Fitness Centre from 7.30pm.
The gathering, organised by Lee's friends and family, will include a race night, charity raffle and disco.
Tickets for the celebration of Lee's life have sold quickly, but some still remain.
Lee's close friend Gary Shields hopes Saturday's fundraiser can act as a tribute to Lee.
He said: "Lee was a very funny guy.
"Everyone has a different funny story about him and hopefully they can share them with each other on the night."
Tickets to the fundraiser are priced at £5 and raffle tickets can be purchased for £1.
Those interested in attending should contact Gary at www.facebook.com/shieldydfc
As an update to this article the family of Lee would like to thank all who attended the event which was an extremely special occasion.
We as a family would also like to thank all who contributed to the event either by the donation of prizes, or indeed sponsoring a horse.
We would especially like to thank Gary Shields, Steve Martin and Ryan Taylor for putting the entire event together and arranging many of the fundraising events which led up to the evening. When a total of the amount raised is available we will update here. 
Thanks to all! 
Trainer tribute to talented Lee
Kris Boyle a local entrepreneur surprised Lee's parents with a bespoke pair of Adidas trainers dedicated to Lee.
 Kris said – "This week's project was a memorial shoe dedicated to the family of a talented lad from the Hilltown. Sadly Lee's story ended far too short…" Kris went on to say. "Me and lee were at school together , kicked about the same streets and played in rival bands to each other . I've always seen lee as a seriously talented guy. He was amazing on the guitar and I can honestly say the band days would never have been as fun without lee.This shoe was done for one reason and one reason only lee Welsh had Dundee sole ✊🏻 rest in peace mate!"
A link to Kris's Facebook page here
Some images of a portrait of Lee by SYKE Graffiti, a surprise commission by friends of Lee who invited Phil & Lesley to a surprise viewing.
A plaque has been placed on a bench on Magdalen Green in Dundee. Images below
These images are graffiti art by SYKE Graffiti, done in Dundee in Lee's memory. Lee was a huge oasis fan.
The Dundee Courier has run a story on this as well, reproduced below and the full article HERE
Moving mural tribute to tragic Lee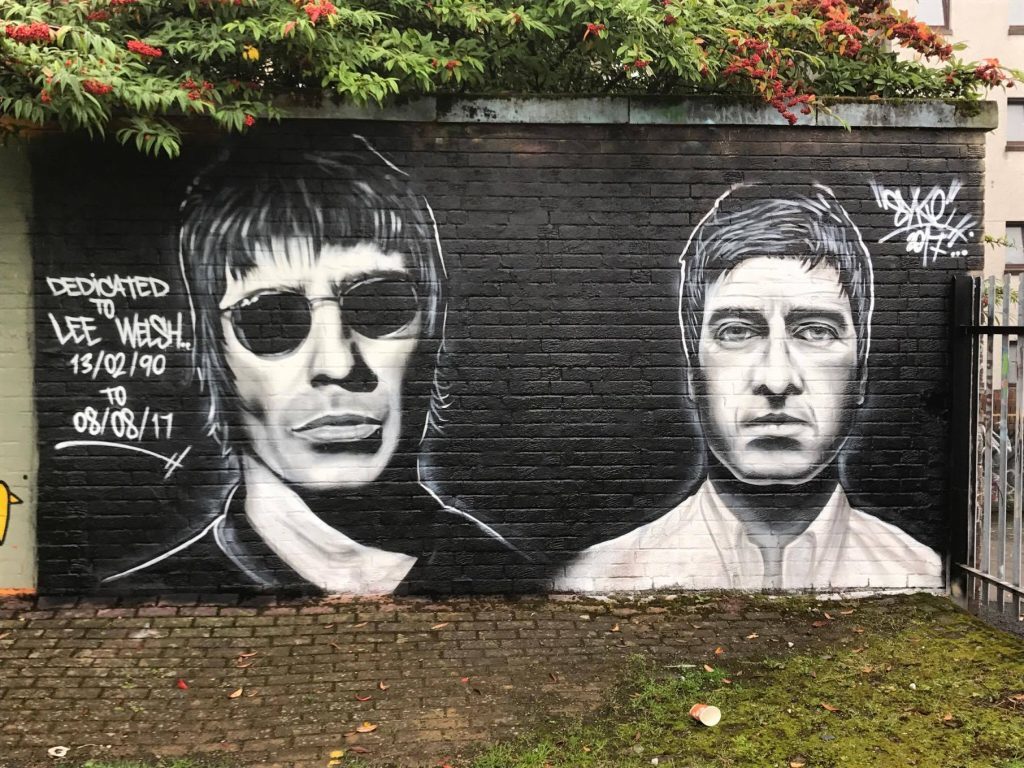 A moving musical tribute has been paid to Dundee man Lee Welsh.
Talented musician Lee, 27, took his own life in August.
The 27-year-old's family has since campaigned for enhanced mental health care provision.
Lee's name has now been included within a graffiti design in a Dundee park.
A local artist had created an Oasis mural within the DPM Park, just off Dundee's Canning Street.
However, the mural was then tagged with a dedication to Lee at the request of his parents Phil and Lesley.
In addition to the grafitti tribute, Lee's family and friends plan to buy a memorial bench in his memory.
A race night and disco to raise funds for the bench will be held in the function suite of Dundee's Skyaxe Combat and Fitness Centre on November 18.
Tickets for the event are on sale now and can be purchased by contacting Lee's close friends Gary Shields and Ryan Taylor.
A website has also been created in Lee's honour to share stories of mental health which can be shared with politicians and charities.
The Evening Telegraph has also run a story on the Graffiti tribute to Lee. The full article can be seen HERE
---
A tragic Dundee dad has been honoured in a mural alongside one of his favourite bands.
The tribute was paid to Lee Welsh, 27, as part of a graffiti mural depicting Oasis stars Liam and Noel Gallagher.
The art recently appeared at the former DPM factory in Hilltown — a designated site for graffiti art — and was created by SYKE Graffiti.
Lee, a father-of-one, was found dead at his home in Peddie Street in August leaving his family and friends devastated.
Dad Phil, 48, said he and his partner Lesley Nicoll were "over the moon" with the tribute and that it has brought them some comfort during their difficult time.
Phil said: "We noticed the mural had appeared overnight by SYKE Graffiti.
"Lesley had dropped a message to the guy behind it and he said that he knew about Lee.
"So, he has come up and added the dedication about Lee and we're absolutely over the moon with it.
"The guy's not doing this for any publicity or anything like that.
"I just thought it was a wonderful thing to do.
"All his pals are coming up to see it. It won't last forever because they do different things after a wee while, but we will have it forever in photographs."
Lee was known in the city for his musical exploits with his band Modern Culture.
His memory was honoured recently with a night of music at the Royal Tay Yacht Club.
The Tele previously told how Lee battled mental health issues for almost a decade prior to his death, which has prompted his parents to campaign for greater action in assisting people with similar issues.
Phil added: "It's been a difficult time for us with everything that has been going on, but something like this has given us a wee boost.
"Lee and I used to have debates about Oasis because he loved them and I wasn't much of a fan.
"He went to see them at Hampden years ago, but I never went.
"But he did manage to get me to kind of like Noel Gallagher's solo stuff.
"It's great that he's featured alongside the Gallaghers. It's something so simple, but it's gone a long way."
Symon Mathieson from SYKE Graffiti added: "I was approached by Lee's family as they saw the paintings I did at the DPM.
"Lee's mum explained to me that he lived in the area and was an avid Oasis fan and asked if I would put Lee's name as a dedication.
"I didn't know Lee personally, but I'm humbled to have been asked to put his name up."